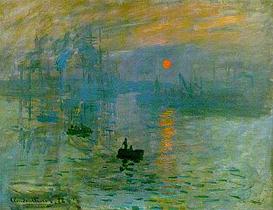 Monet: Impression, sunriseImpressionism flourished firstly in France and later in some other European countries from the 1860s to the beginning of the First World War.
Typical of this artistic style, which is still very popular with fine art admirers, is the desire to objectively depict nature and world in general, with an emphasis on instantaneity and the eternal changeability of reality. Painters like Claude Monet, Edgar Degas, Auguste Renoir, Camille Pissarro, Alfred Sisley and Paul Cézanne were interested in outdoor painting and consequently very fond of landscapes.
In Impressionism the motif is only the media for the effects of changing light that constantly creates a new atmosphere. That is why the Impressionist artists painted whole series of one single motif at different times of the day or in different seasons. They didn't mix colours, but applied them pure, one colour next to the other in spotty strokes, which creates a twinkling whole on the canvas itself.